Feeling Stuck inyour Career?
Get step by step guidance to help you unlock your
potential, fulfill your goals, and transform your life.
Boredom after many years in your career
Frustration over lack of growth
Longing to do other work
Stress at work impacting your personal life
Schedule your FREE call TODAY to take the 1st step to finding a career that has you jumping out of bed EXCITED to go to work!
3 Steps to

Boundless

Success...
Coaching offers a way forward, so you can START transforming your life and turn your dreams into reality.
Stop Feeling Stuck In
Your Life.
Change your mindset and begin to enjoy limitless career potential.
We know you want to be a successful professional.  In order to do that, you need to feel confident and in control.  The problem is you're unable to showcase your true talents which makes you feel stuck and frustrated.  We believe you should thrive in your career.  We understand how it feels to be stuck which is why we help clients overcome roadblocks to find true success.
"Great information and presentation."
K. Jones
"Great Reminder how powerful we can be with the right mindset."
A. Lake
"I thoroughly enjoyed this session! The exercises were great. I would like to do this again and even for a longer period of time if possible."
K. Washington
"Course provided great general reminders of how to implement change in our lives."
C. Shaw
"Excellent presentation and material. We need more classes from Lisa."
S. Sandring
"Exceptional presenter."
M. Garcia
"This was a great presentation - very helpful and quite enjoyable - thank you!"
J. Lambert
"There was so much good information in this course, it could be extended to 90 minutes and still hold the audience's interest easily."
B. Powell
"Wish that it was longer. It was over before I knew it."
J. Moore
"This was a wonderful, self-discovery webinar. Ms. Dy is very knowledgeable which comes through as enthusiasm. As we participated during the session, I found it very easy to stay focused, so much so that I wish it went longer."
N. Velazquez
Follow Lisa on Instagram, Facebook and Linkedin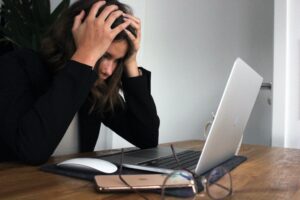 Feeling overwhelmed is an all-too-familiar experience for many individuals in today's fast-paced world. The demands of work, relationships, personal goals, and societal pressures can quickly pile up, leaving us feeling mentally and emotionally strained. In this blog, we'll delve into the heart of overwhelm, provide relatable examples of what happens when you're overwhelmed, assure you …
9 Tips on How to Stop Feeling Overwhelmed Right NOW Read More »
Read More